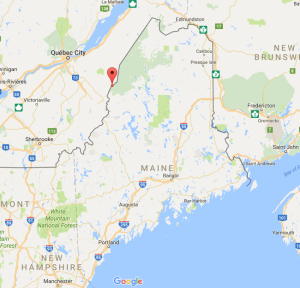 Part of what makes hunting with PB Guide Service unique is our location. With camps in township T8R19 (Baker Lake Region) at the St. Cypian border, PB Guide Service is the first and only commercial outfitter in the region, which spans over 400 square miles of dirt roads and private, paper company maintained forest.
For the hunter, this vast, uninhabited wilderness is a paradise. You won't be bothered by other hunters or traffic. You won't have to worry about being too close to buildings or homes.  You'll be free to enjoy your hunt in the scenic, serene Maine forest.
The Camps
Despite our remote location, our camps maintain many modern conveniences, such as electricity, plumbing (with men's and women's bathrooms), showers, satellite television, and a phone line.
Each group (including single hunters) gets their own room or cabin, so you won't have to worry about sharing a bunkhouse with strangers.  We do our best to provide a comfortable and relaxing stay for all our clients.
At PB Guide service, you're given the best of both worlds – the wide open terrain of remote wilderness and the comfort of a modern lodge.
Never Go Hungry
When you book any of hunting packages, you won't have to worry about going hungry. Our kitchen stays open virtually all day in addition to the three home-cooked meals our staff prepares daily. These meals range from smoked ribs to baked ham to roasted chicken. Each meal is served buffet style with a simple rule to follow—if there aren't leftovers, we didn't cook enough. That's not even to mention the pastries, snacks, desserts, and coffee we keep available throughout the day.
It's safe to say that when you stay at our camps, you won't go home hungry.