As a moose hunting lodge and outfitter, PB Guide Service offers decades of experience and the unmatched hunting territory of Maine's WMD 4.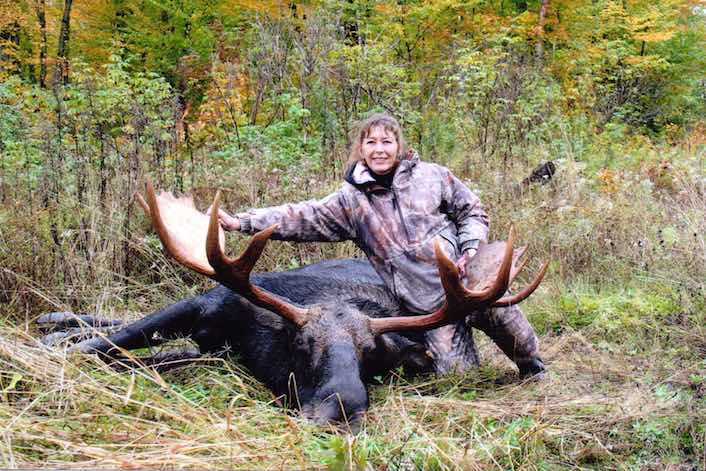 If you're lucky enough to win a permit to hunt a moose in Maine, you know this is an opportunity you can't pass up. Tens of thousands of hunters enter the moose permit lottery every year, and only a few thousand get the chance to hunt.
At PB Guide Service, we know that hunting a moose is a once-in-a-lifetime experience, and we do everything we can to make sure that experience goes exactly the way you imagined.
We're lucky enough to hunt out of the most densely populated moose region in Maine, but it's our experience and preparation that sets us apart from other outfitters. Our hunters benefit from our extensive knowledge of Zone 4 and the hundreds of successful moose hunts we've been a part of.
Ready to see how we can make your hunt the experience of a lifetime? Give us a call today.
Choosing the Right Moose Hunting Lodge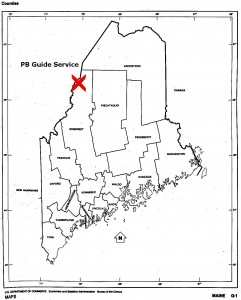 While many guides or outfitters will take moose hunters in Zone 4, no other outfitter matches the experience we have with the territory.
PB Guide Service has been hunting Zone 4 for over three decades—and not just for moose. On any given year, our guides spend between five and six months scouting and preparing for grouse, bear, deer, and moose hunters throughout Zone 4.
We also offer our hunters one of the only permanent hunting lodges in the region. Rather than staying in a rented logging bunkhouse or a series of tents and campers, our camp includes:
A full kitchen
Electricity and running water
Separate bathrooms for men and women
Individual cabins/rooms for your group
A walk-in cooler to store your moose or other game
Satellite tv and a telephone line
Not to mention, we offer all of this from the most remote region of Zone 4, which means you get the advantages of a modern lodge and the benefits of a moose hunting territory that receives almost no pressure from other hunters.
Whether you choose a Guided Moose Hunt or our Bed & Meals package, you'll get full use of all our facilities for your entire stay.
Fully Guided Maine Moose Hunt
Our fully guided moose hunt is a true all-inclusive option. As long as you can make it to camp, we'll take care of the rest. You'll be paired with an experienced Maine guide who knows the area, and we'll take care of transportation throughout the hunt.
We'll also take care of an often overlooked part of the moose hunt—getting your moose out of the woods. The process can be difficult, but we've streamlined it over hundreds of successful moose hunts. Once we get your moose out of the woods, we'll store it in the walk-in cooler until you're ready to head home. Then, we'll transport it to a local butcher of your choice.
All of our guided hunters also get full use of our camps and facilities, three daily meals, home-cooked snacks and desserts, and individual cabins for you and group.
But what's more, we know the best hunts include friends and family, so when you choose our guided package, your sub-permittee (or 1 guest) can come with you at no additional cost.
Over the years, our guided moose hunters have had a success rate of over 90%, and every year, we have hunters shooting trophy bulls and cows within the first day of hunting.
If you're serious about having a great moose hunt and the trip of a lifetime, then our guided package is the perfect fit for you.
Bed & Meals Moose Hunt
If you're already familiar with the North Maine Woods, or if you've been on a moose hunt before, then you may be looking for a low-cost way to explore Zone 4 and take advantage of a once-in-a-lifetime chance to hunt a Maine moose.
With our Bed & Meals package, you get all of the following:
Full use of our camps and facilities
Storage of your moose in our walk-in cooler
Individual cabins for you and/or your group
Three meals a day, plus a variety of home-cooked snacks and desserts
And most importantly, you'll have easy access to the best moose hunting territory in Maine.
Guided Moose Hunt Rate
Includes dedicated Maine guide, meals, lodging, transportation, complete access to our camps and amenities, AND the option to bring your sub-permittee at no additional cost.
$3,500.00 for the full week (includes sub-permittee)
Bed & Meals Moose Hunt Rates
Includes meals, use of walk-in cooler, complete access to our camps and amenities, and individual lodging for you and/or your group.
Option 1: Full Week
$600.00/week
Option 2: Daily
$100.00/day (requires two-day minimum)
If you're ready to book your hunt, please contact us as soon as possible. We have limited availability and like to keep the camp from becoming overcrowded with hunters. With over 600 permits being issued in Zone 4, our space promises to fill quickly.
Successful Maine Moose Hunts
Want to see some of the photos we've taken of successful moose hunts over the years? We've included some below, but if you'd like to see more, check out our photo gallery.
If you would like to speak to someone who can tell you firsthand what hunting a moose with PB Guide Service is like, contact one of our references:
Bob Harvey
(570)366-0787
rlh20@psu.edu
Clayton Davis
(207)623-4432
tcfdavis30@yahoo.com