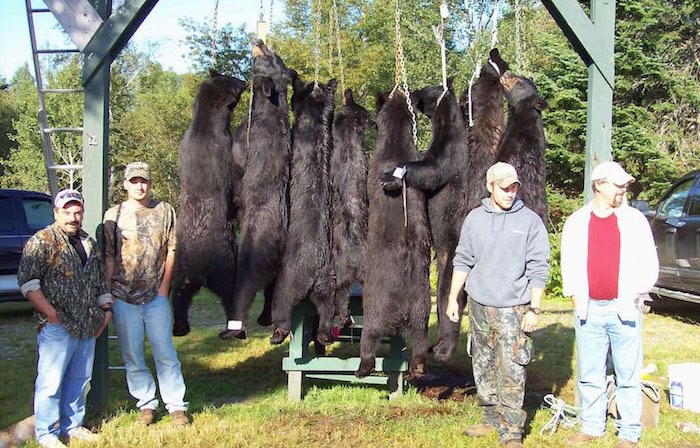 Black bear hunting in Maine offers a special kind of adventure, and every hunter with PB Guide Service benefits from black bear hunting methods we've fine-tuned over three decades.
When you hunt bear with us, we do everything possible to make sure you get a shot at a black bear. Over the years, we've averaged an 80% success rate on our fully-guided bear hunt over bait. From our camps in the Baker Lake Region of Northern Maine, we are the only commercial outfitter in one of the most densely populated black bear regions in North America. You won't have to worry about competition from other hunters or guide services. You'll benefit from our carefully planned bait sites that stretch across a territory of over 400 square miles.
As proud as we are of hunters' successes, we know that a great hunt is about more than just lining up your shot, and we're dedicated to giving you an experienced you'll remember for a lifetime.
Whether it's your first time hunting black bear or your tenth, we know that we can give you a bear hunt like no other.
Quick Facts About Our Black Bear Hunts
Maine's bear season begins at the end of August and lasts four weeks
Each hunt is 6 days, 7 nights (Sunday through Sunday)
Hunters and their groups get individual cabins/rooms (no shared bunkhouses)
Every hunter gets a chance to pick out a bait site they're comfortable with prior to the first night of hunting
Hunt includes meals, lodging, and transportation to/from bait sites
Have questions about our black bear hunt or bear hunting in general? Call us today. We're always available to talk to hunters.