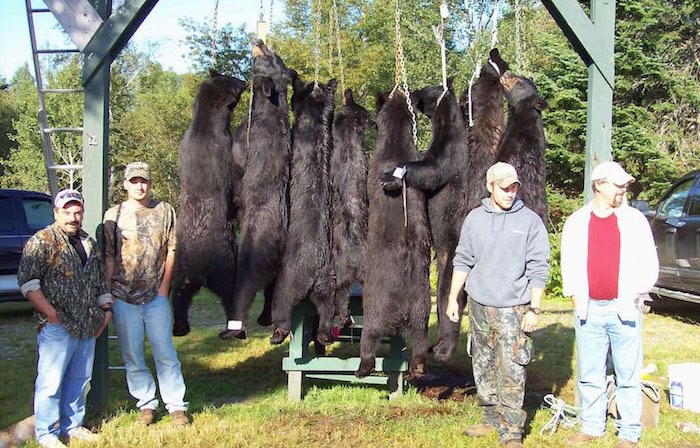 Black bear hunting in Maine offers a special kind of adventure, and every hunter with PB Guide Service benefits from black bear hunting methods we've fine-tuned over three decades.
When you hunt bear with us, we do everything possible to make sure you get a shot at a black bear. Over the years, we've averaged an 80% success rate on our fully-guided bear hunt over bait. From our camps in the Baker Lake Region of Northern Maine, we are the only commercial outfitter in one of the most densely populated black bear regions in North America. You won't have to worry about competition from other hunters or guide services. You'll benefit from our carefully planned bait sites that stretch across a territory of over 400 square miles.
As proud as we are of hunters' successes, we know that a great hunt is about more than just lining up your shot, and we're dedicated to giving you an experience you'll remember for a lifetime.
Whether it's your first time hunting black bear or your tenth, we know that we can give you a bear hunt like no other.
With this hunting package, you'll benefit from:
Professional Bear Bait Site
The most important part of a black bear hunt is your bait site. A good bear hunting territory and a well-maintained bait are only the beginning of making sure you have a successful hunt. We develop our baits based on years of hunting experience, and we take into account the orientation of sunset, the typical wind and weather patterns of the region, the natural game trails for the animals, the habitat, natural camouflage, and much more. Then, we pair individual hunters with bait sites that best fit their preferences. Whether you want to hunt bear with a rifle, shotgun, bow, or crossbow, we have bait sites already set up for that.
Modern Lodging
Our lodge offers every modern amenity including individual cabins/rooms, electricity, running water, full plumbing, satellite TV, a phone line, a walk-in cooler to store your meat, separate men's and women's bathrooms, and much more.
Hearty Meals
We have two cooks working full-time at our camp to prepare home-cooked meals three times a day, but that doesn't mean you can't snack on pastries, cookies, desserts, and other snacks in-between meal times. We like to say that our kitchen is never closed, but the important thing to remember is that you'll never go hungry at our camp.
Experienced Guide
All of our guides offer years of hunting experience to their clients, and they spend the months in the region scouting and preparing bait sites over the course of the year. On the day of the hunt, they'll lead you directly to your stand or shooting cabin and make sure you have a clear shot at the bait. After you take a shot at a bear, the guide will help you locate it and bring it out of the forest.
Transportation
Once you get to camp, we take care of transportation to and from your bait site. This includes transporting your bear back to camp after a successful hunt. We'll make sure you're in your stand at a reasonable time (so you're not sitting too long, but also don't miss the best hunting). After legal shooting, we pick all of our hunters up as soon as possible.  We absolutely never leave hunters waiting in the stand to go look for someone's bear. Once we've picked everyone up, we'll  go back to track or retrieve any bear.
Professional Skinning & Quartering
We have a full-time, professionally trained butcher at camp who will take care of skinning and quartering your bear at no extra cost. Before and after processing, we'll store your bear in our walk-in cooler to keep it protected from the August heat. If you'd like our butcher to process your bear more, he can do so for a small fee.
Additional Facts About Our Black Bear Hunts
Maine's bear season begins at the end of August and lasts four weeks
Each hunt is 6 days, 7 nights (Sunday through Sunday)
Hunters and their groups get individual cabins/rooms (no shared bunkhouses)
Every hunter gets a chance to pick out a bait site they're comfortable with prior to the first night of hunting
Hunt includes meals, lodging, and transportation to/from bait sites
Have questions about our black bear hunt or bear hunting in general? Call us today. We're always available to talk to hunters.