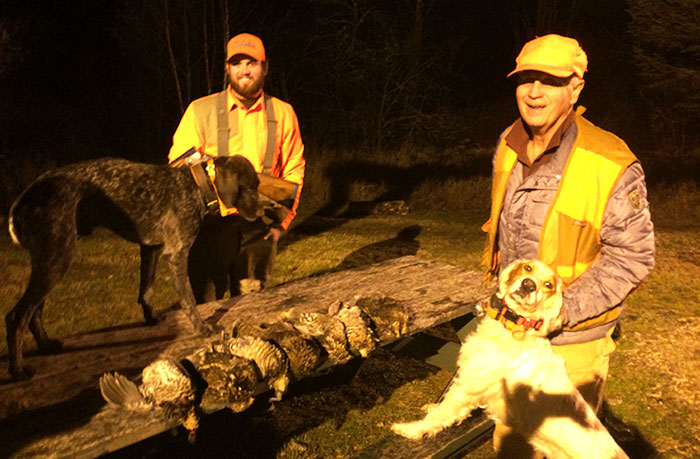 Patridge hunting in Northern Maine offers some of the most enjoyable hunting you can experience. At our camps in the North Maine Woods, you can ride hundreds of miles of dirt roads and see dozens of grouse without ever leaving your vehicle. During the October partridge season, our hunters have no problem shooting their daily limit.
Thanks to our remote location in the Baker Lake Region, you won't face nearly as much competition from hunters as you would in other parts of the state. This means you'll benefit from more partridge and more freedom to explore the vast territory we hunt.
Bird Dogs Welcome
If you're trying to work your bird dog for field trials, general practice, or just for some added fun, our camps are the perfect location. On a day with good weather, our hunters regularly get 20-30 flushes with their dogs. The vast wilderness, low hunting pressure, and thousands of partridge make exceptional hunting conditions for you and your dog.
Best of all, we allow your dog to stay with you at no extra cost.
An Experience You'll Remember
Our grouse hunt is the perfect opportunity to spend a few days hunting with your friends or family. Whether you're coming with first-time hunters or seasoned veterans, you'll have plenty of partridge and great times ahead of you.
And if you've never seen Northern Maine in October, you're in for a treat. Fall foliage is usually in full swing by mid-October, where you'll witness some of the most beautiful scenery you can see anywhere.
For the partridge season, we offer Bed & Meals packages on a 3-day or weekly basis throughout October. During your stay, we'll take care of all of your food, and you'll have full access to our camps, which includes electricity, running water, full plumbing and showers, satellite TV, and a phone line. We never pair you in a room or shared bunkhouses with people you don't know, so your group will have its own cabin or rooms to relax and enjoy your hunt.
When you're ready to see all that partridge hunting with PB Guide Service has to offer, give us a call.