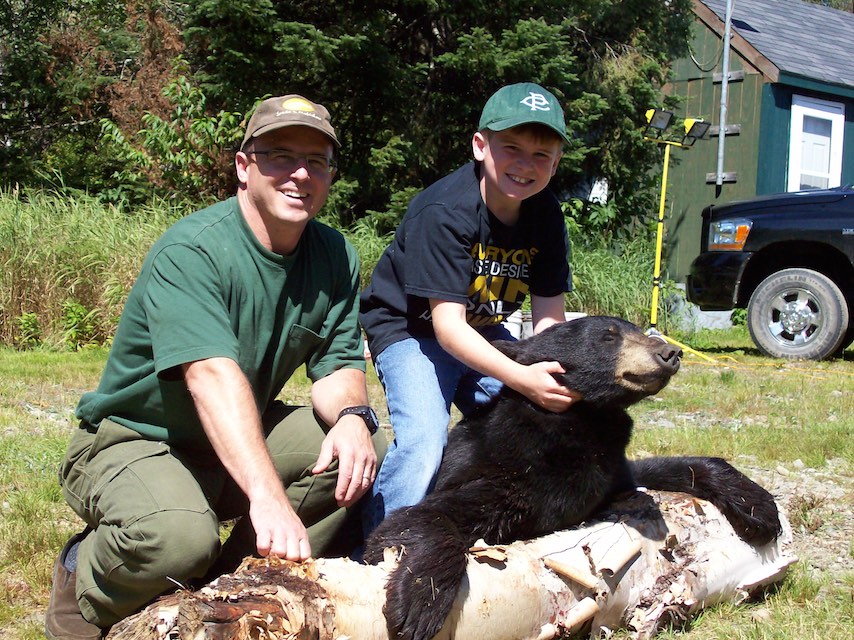 Youth Bear Hunting Day in Maine gives junior hunters (under 16 years old) a chance to hunt a Maine Black Bear before the full season opens. The opportunity to sit for a Maine black bear is one of the most exciting experiences a young hunter can have in the woods. Over the years, we've guided dozens of junior hunters and their families on successful black bear hunts.
The one-day hunt also gives hunters and their guardians an easy and cost-effective way to work around school and athletic schedules. Not to mention, youth hunters will benefit from being the first hunters of the season.
But it takes special considerations to make a one-day hunt successful. Fortunately, we've been guiding bear hunters in the region for 30 years, and we're the only commercial outfitter in a territory that covers 350,000 acres. When you hunt with us, we'll make sure you're hunting a prime bait site, and we'll help educate you on the best practices of black bear hunting.
All things considered, the youth hunt is a special opportunity to hunt a Maine black bear, an opportunity most hunters never get.
Maine Youth Bear Hunt Special Offer
This year, Maine's Youth Bear Hunting Day will take place on Saturday, August 27, 2016. PB Guide Service is offering a special package tailored specifically to the youth hunting day. 
The total price for two people (hunter and guardian) of $600 includes a night of lodging, all your meals, and everything else listed below. You'll check-in any time after 10:00 am on August 27th, go hunting that evening, and check-out sometime after breakfast on Sunday, August 28th.
Best of all, we take care of everything. As long as you can make it to camp with a hunter, we'll put you in the best possible position to shoot a black bear. Our black bear hunt over bait is one of the most successful bear hunts in North America, and we approach the Youth Bear Hunting Day with the same commitment to success.
With this hunting package, you'll benefit from the same exceptional hunting experience that comes with our Guided Maine Black Bear Hunt.
All of this comes included in the $600 cost.
Ready to take advantage of Maine Youth Bear Hunting Day? Give us a call or email us as soon as possible. We'd love to have you at camp for the bear hunt.