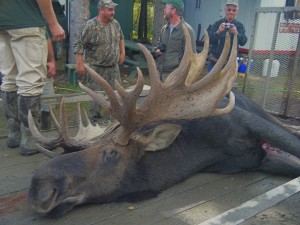 From our camp in the Baker Lake Region of Maine, we've been providing quality black bear, moose, and deer hunts for over thirty years.
Guided Hunting Packages
Click on one of the following links to learn more.
Black Bear (Late August-September)
Whitetail Deer (November)
Moose (3 seasons, one in September, one in October, one in November)
(Unless otherwise noted, all our hunts run from Sunday-Sunday of the given week you book during the season.)
Unique Location:
Part of what makes PB Guide Service unique is our location.  With camps in township T8R19 (Baker Lake Region) at the St. Cypian border,  PB Guide Service is the first and only commercial outfitter in the region, which spans over 400 sq. miles of dirt roads and private, paper company maintained forest.
For the hunter, this vast, uninhabited wilderness is a paradise.  You won't be bothered by other hunters or traffic.  You won't have to worry about being too close to buildings or homes.  You'll be free to enjoy your hunt in the scenic, serene Maine forest.
GUIDED EXPERIENCE
With P.B. Guide Service, you get more than a discounted hunt.  You'll get the help of guides with years of experience hunting Maine Moose.  Since 1994, we've guided over 120 successful Moose Hunts.
Many of the Bull Moose we've brought in have measured spreads between 50-57″ and weights of over 900lbs.
EXCEPTIONAL LODGING
In addition to our years of successful Moose hunting experience, you'll get access to the best lodging in WMD 4.  Located along the Maine/Quebec border, we hunt over 400 square miles of unpopulated forests and private dirt roads where we are the only permanent outfitter.  We operate a year-round lodge with full-time cooks, so you won't have to worry about staying in a tent or cooking your own meals.
Our camps also feature full time electricity, flush toilets, heat, phone, satellite T.V., hot showers, and a walk-in cooler (where you can store your Maine Moose until you're ready to leave).  No one offers a more comfortable stay in a more remote location of WMD 4 than P.B. Guide Service.